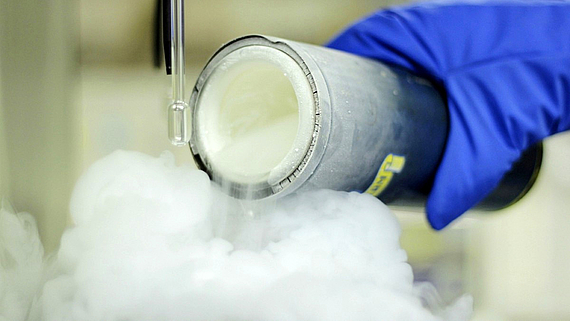 The focus of our research group is on the so-called molecular switches. Compounds which can change their properties by an external stimulus and can thus be used as sensors or, in the future, data storage devices. Mößbauer spectroscopy has been established as a further research focus in the group. This method allows a precise investigation of the above mentioned switchable compounds. Miniaturized Mößbauer spectrometers have already been successfully used on various space missions.
Molecular switches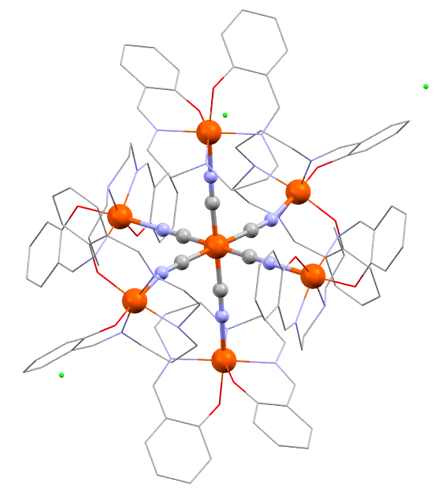 The spin crossover phenomenon (SCO) describes the reversible transition between different electronic configurations of a coordination compound by external stimulation and was first observed in the early 1930s by Cambi and Maltesta on the basis of a temperature-dependent change in the magnetic susceptibility of Fe(III) coordination compounds. Due to their potential for miniaturization of electronic components, spin-crossover compounds have been of increasing interest in coordination chemistry for many years. This is based on reversibly stimulable property changes that can be used in various nanoscopic applications such as data storage or sensors. To date, however, only a few technical applications based on the spin-crossover effect are known. Therefore, the focus of this thesis is on the further development of spin-crossover systems known from literature for future technical applications.
The spin-crossover phenomenon is triggered by various stimuli. One of them is the strong-field-LIESST effect, which Prof. Dr. Renz discovered during his doctoral studies. He was able to show that spin crossover can be induced and stabilized by light of different wavelengths. The research group focuses on the synthesis of new spin-crossover compounds and their characterization.
The synthesized and characterized spin-crossover compounds can then be incorporated into polymer fibers. For this purpose, the Renz group is cooperating with the group of Prof. Dr. Sindelar from the University of Applied Sciences and Arts Hannover. One possibility to produce one-dimensional polymer fibers is the so-called electrospinning, which can be carried out in the group of Prof. Sindelar. Electrospinning is based on the effect of electrostatic forces on free charge carriers of a polymeric liquid and can be regarded as a variant of electrospraying. The structure of the common process consists of a syringe with needle, which is filled with a polymer solution or - melt - and can be continuously emptied by a motor, a collector and a high voltage source. This is shown in the adjacent figure. Macroscopically, the formation of fibers can be described by continuously pulling a fiber out of a drop when a high voltage is applied between the needle and the collector.
Mößbauer spectroscopy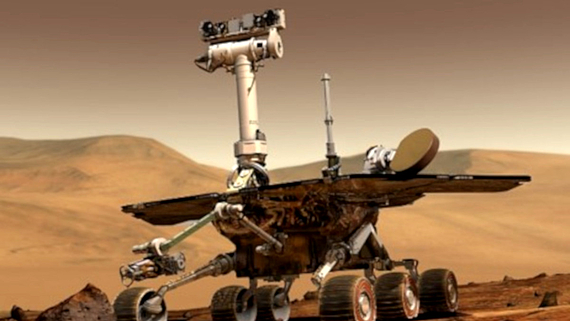 Mößbauer spectroscopy is a highly precise method for the analysis of different elements. It is based on the Mößbauer effect, the recoilless nuclear resonance absorption of γ-rays and was named after its discoverer Rudolf Mößbauer. This spectroscopic method can be used to investigate binding and magnetic properties. Mößbauer spectroscopy is of particular interest for the element iron. The exciting isotope for iron is 57Co, which has a decay transition at 14.41 keV, which can produce a resonance in iron.
Over the years, Mößbauer spectroscopy has been further developed and refined. New technologies offered the possibility of miniaturization. Göstar Klingelhöfer and his research group from the Johannes Gutenberg University in Mainz and the Technical University in Darmstadt thus developed the miniaturized Mößbauer spectrometer MIMOS II, which was used on the rovers Spirit and Opportunity during the Mars missions. They provided information about the water that once existed on Mars. The Renz group is working on improving the devices established by Mr Klingelhöfer.
Cooperations
International ccoperations
Head of the group
Prof. Dr. Dr. h. c. Franz Renz
Address
Callinstraße 3-9
30167 Hannover